Xopher set to do T&T proud
 From self-introspection, as a child Wesley (Christopher pronounced Xopher) James found the gift of voice and he is now living his dream to make music and to fly the red, white and black flag.
   Xopher was a late bloomer and spoke at age seven and when he did, he stuttered another battle he won and found himself singing jingles that played on the television.
   He was born in the British Virgin Islands and grew up in Trinidad. He said his mother is from Santo Domingo and his father is from Trinidad.
   Though he crossed borders to make this dream a reality, Xopher still maintains his roots and is back in Trinidad to promote his music experience.
   Xopher, who now lives in Pennsylvania in the US, said growing up he shared a two-bedroom home with sev eral cousins, slept with his grandmother, and found the crowding to be a struggle. He said he spent many days reflecting in the backyard and singing jingles until one day it dawned on him, singing was his niche.
   He has been singing and producing music for the past two years with elements of American and Trinidadian appeal-soca, dancehall, and Afro beats that transcend boundaries.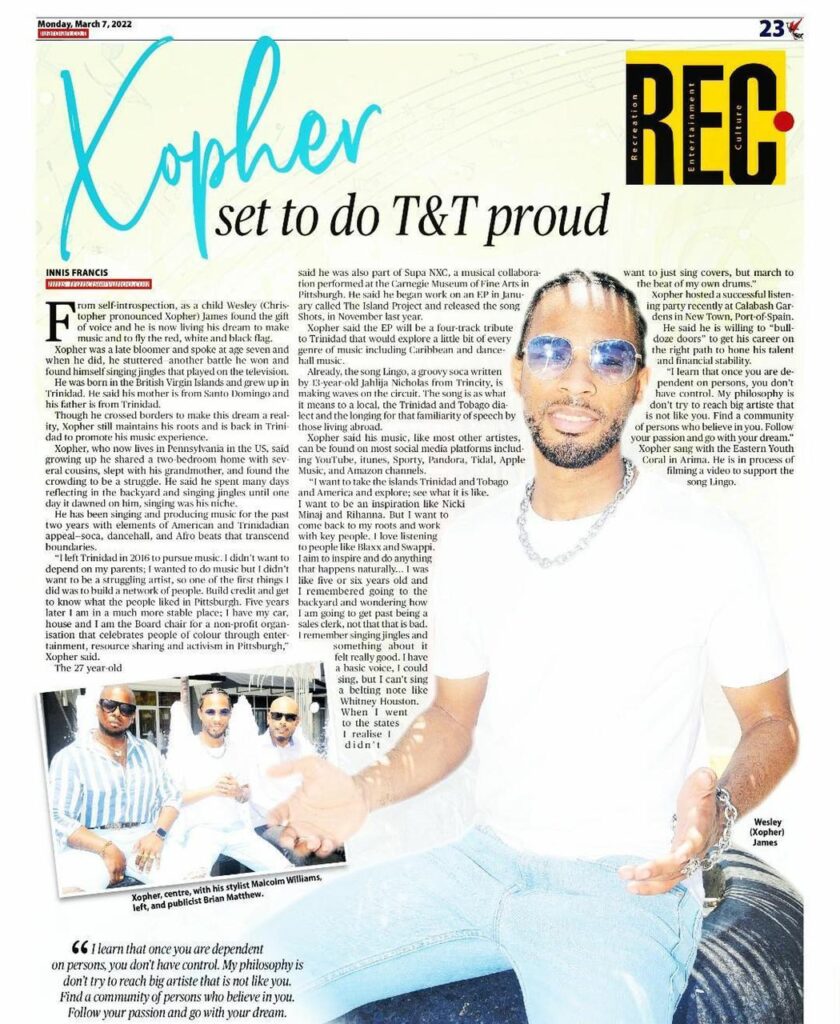 "I left Trinidad in 2016 to pursue music. I didn't want to depend on my parents; I wanted to do music but I didn't want to be a struggling artist, so one of the first things I did was to build a network of people. Build credit and get to know what the people liked in Pittsburgh. Five years later I am in a much more stable place: 1 have my car, house and I am the Board chair for a non-profit organisation that celebrates people of colour through enter tainment, resource sharing and activism in Pittsburgh," Xopher said.
   The 27 year-old said he was also part of Supa NXC, a musical collaboration performed at the Carnegie Museum of Fine Arts in Pittsburgh. He said he began work on an EP in January called The Island Project and released the song Shots, in November last year.
   Xopher said the EP will be a four-track tribute to Trinidad that would explore a little bit of every genre of music including Caribbean and dancehall music.
   Already, the song Lingo, a groovy soca written by 13-year-old Jahlija Nicholas from Trincity, is making waves on the circuit. The song is as what it means to a local, the Trinidad and Tobago dialect and the longing for that familiarity of speech by those living abroad.
   Xopher said his music, like most other artistes, can be found on most social media platforms including YouTube, itunes, Sporty, Pandora, Tidal, Apple Music, and Amazon channels.
   "I want to take the islands Trinidad and Tobago and America and explore; see what it is like. I want to be an inspiration like Nicki Minaj and Rihanna. But I want to come back to my roots and work with key people. I love listening to people like Blaxx and Swappi. I aim to inspire and do anything that happens naturally… I was like five or six years old and I remembered going to the backyard and wondering how I am going to get past being a sales clerk, not that that is bad. I remember singing jingles and something about it felt really good. I have a basic voice, I could sing, but I can't sing a belting note like Whitney Houston. When I went to the states I realise I didn't want to just sing covers, but march to the heat of my own drums."
   Xopher hosted a successful listen. ing party recently at Calabash Gar dens in New Town, Port-of Spain.
   He said he is willing to "bull doze doors" to get his career on the right path to hone his talent and financial stability.
   "I learn that once you are de pendent on persons, you don't have control. My philosophy is don't try to reach big artiste that is not like you. Find a community of persons who believe in you. Follow your passion and go with your dream."
   Xopher sang with the Eastern Youth Coral in Arima. He is in process of filming a video to support the song Lingo
For any event, show, modeling, session and more, leave your message.